Information of Hatano Clinic
for English speaking patients
Fields of medicine
internal medicine
psychosomatic medicine
Office schedule
A.M. (morning session): from 10:00 until 12:30
P.M. (afternoon session): from 14:00 until 18:30
On your first visit, please fill out our registration form to our office at least 30 minutes before closing time (i.e. by 12:00 noon for the morning session and by 6PM/18:00 for the afternoon session).
Location
Hatano Clinic
Fuji Sakae Building 4th floor
4-16-27 Sakae, Naka-ku, Nagoya, Aichi-ken,
Japan 460-0008
User guide
Please register at the reception counter: Before consulting the doctor, you need to register your identity with official documents such as residence card, passport, workplace identity card, or the like.
Japanese medical insurance certificate (National or Social Health Insurance card): You must present your card at the reception counter every month. If there is a change in your name, address, working place, phone number, etc., please inform our receptionist immediately. Otherwise, you will not be covered by the insurance system.
If you don't present a valid Japanese insurance card, you will need to pay cash for your medical expenses in accordance with our billing system.
Payment: We accept only cash. We cannot accept credit cards or electronic payment applications such as smart phone apps.
Currently, there is no reservation system in our clinic.
Comments and requests
from Dr. Hatano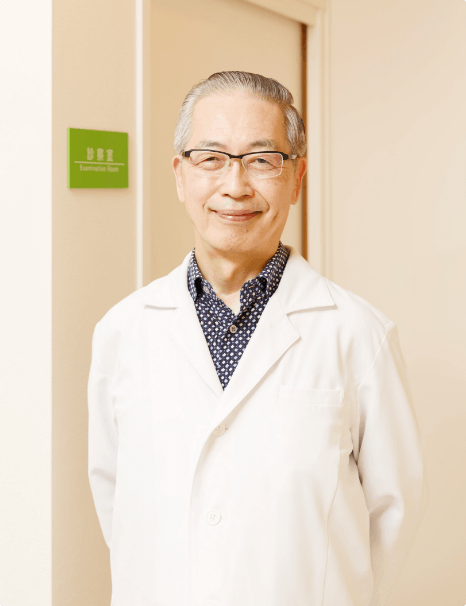 DoctorTakashi Hatano
●I will do my best to speak in English during our medical consultation. However, please understand that my office staff cannot communicate in English. And if you don't feel comfortable communicating in Japanese, please bring somebody who can translate both languages.

●Medical practice here in Japan is naturally based on the rules of the Japanese government. Please understand that all patients must accept Japanese medical procedures. For example, if you receive a prescription for medications, it must be filled by the pharmacy within 4 days. After 4 days it will be deemed invalid.

●Each clinic has its own capabilities. Please understand that we cannot respond to all needs or requests of all patients, though we may be able to suggest referral to more suitable medical facilities.
Greeting
From July 1st, 2022, my medical practice reopens in a new location. As we know, disease, war and economic constrains are rocking the lives of peoples across the world. I believe that, in such challenging times, it's most important for us to nurture our physical and mental well-being. I see my responsibility as doing my utmost to support all patients in maintaining their best health.